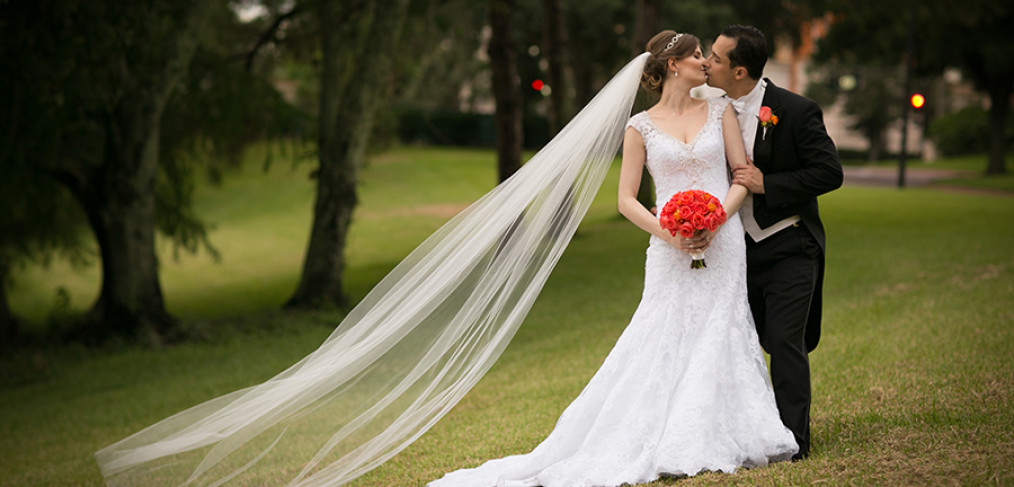 When Ana and Luis Ferreira chose Orlando's Metro West Golf Club for their Florida outdoor destination wedding ceremony they didn't realize just how much of an imposing element our Central Florida weather can be.
After months and months of preparations Mother Nature had her say and down came the rain, naturally just as Ana got her dress on for pictures! 2 1/2 hours later, still raining! With a positive attitude and taking it all in stride this wonderful couple stalled…and stalled…and stalled….
After little over an hour's delay the clouds parted, the rain stopped, the chairs were dried and much to the delight of everyone the ceremony took place as planned, outside on the beautiful greens of Metro West. Someone put in a good word that's for sure as the rains came pouring down again just as we finished with all of their group pictures and romantic pictures!!
A huge shout out to the excellent staff at Metro West, under the expert leadership of Francine Burruezo for handling the situation beautifully…dinner was delicious!! All of the vendors at this event pulled together to make Ana and Luis's day work out wonderfully in spite of the rain. Congratulations to a gorgeous, smart and super sweet couple!
The Details:
D.J Kristen with Our DJ Rocks
Videography by Brandon Kari of Art and Productions
Makeup and hair by Daniella Maria
Flowers by Atmosphere
Cake by Party Flavors
Brazilian candies from Sweets Art, Larissa Macedo
Minister Cecilia Johnson