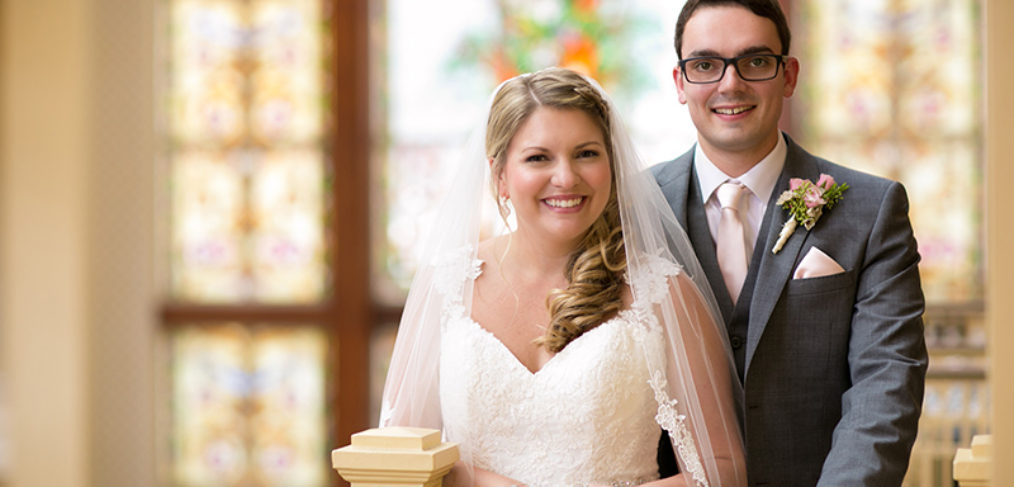 The Ballroom at Church Street: Brandy and Dave's Wedding
Ballroom at Church Street Wedding
Brandy and Dave met working aboard the Disney Fantasy Cruise ship in 2013. Brandy worked with the cruise staff team while Dave worked on the ship wide tech team. After nearly 4 years of sailing the seven seas with Mickey Mouse, the two lovebirds decided it was time to start a life together on land, in far away New Zealand. For Brandy's 28th birthday Dave surprised her with a fantastic trip to the Bay of Islands and Cape Reinga, the northern most point of New Zealand. It was here, overlooking the ocean, on the last day of their trip, that Dave got down on one knee and popped the question. Brandy of course said "yes!" and the excitement of planning their September 22 nd wedding began.
When planning their wedding Brandy and Dave wanted a theme that reflected their life together thus far. They loved traveling, and decided to go with a vintage travel theme to match the grandeur feeling of the Ballroom at Church Street Station in downtown Orlando. Each table was themed around a different city in the world that they had visited together and of course they had to incorporate , at the head table no less, the Disney Fantasy Ship where they met. A " Where in the world are you sitting? " map directed guests to which city in the world they would be sitting and dining at. Party favors included a delicious candy station which included many different treats from the U.S , the U.K and New Zealand. A nice personal touch were the added photographs of each of their grandparents, on their wedding days ,which added the perfect vintage touch to their Ballroom at Church Street Wedding.
Since Brandy and Dave are from two different countries the most important thing they wanted to make sure happened on their wedding day was getting their friends and families together, allowing everyone to get to know each other. Their guests came all the way to Orlando from Australia, the United Kingdom and Switzerland to celebrate with them, and celebrate they did with delicious food, lively dancing and drinking all night long until their fiery sparkler departure. Their Ballroom at Church Street Station Wedding was a huge success, that brought together 2 families, and 2 different cultures.
All wedding days are a blur but no one will forget the epic Maid of Honors " rap speech " nor the fun father/daughter mash up dance Brandy did with her dad. Dave's fondest memory was the tender and sweet dance with his grandmother to her favorite song. Congratulations Brandy and Dave, your wedding was great fun and S&S wishes you both many many years of happiness together!!
Venue: The Ballroom Church Street Station
Hair : Primped Up Hair & Makeup
Make Up: https://www.beautespeciale.com/
Florist: Betty J's Florist
Cake/Cupcakes: Party Flavors Custom Cakes
Event Coordinator: Purple Hype LLC – Sara King