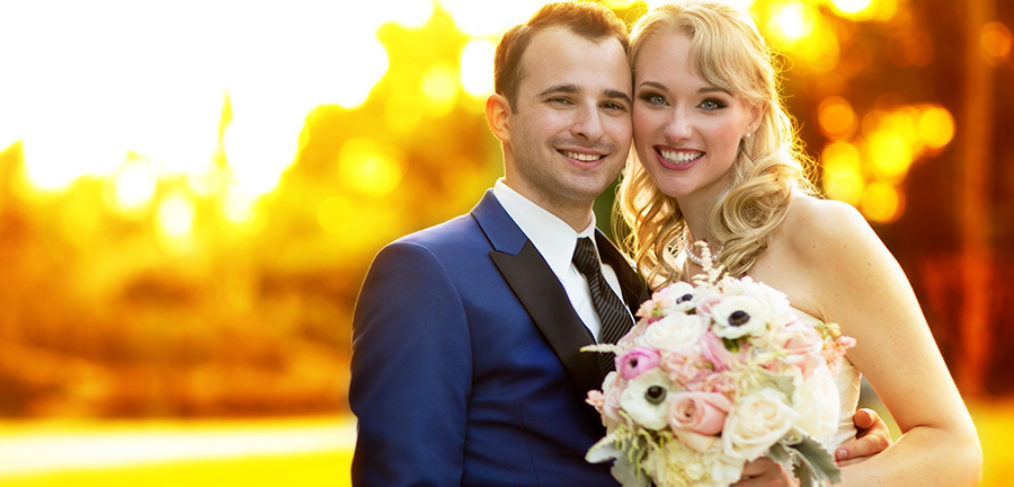 Maison Jardin: Madalyn and Aaron's Wedding
Maison & Jardin Wedding
I honestly can say that Madalyn was one of the most relaxed brides I've ever encountered , lucky Aaron! When a bride "goes with the flow" so to say the stress of the wedding is greatly reduced. If you have no theme other than choosing things you like how can you go wrong? Instead of having to find things that fall within your theme or "go with " your theme you can simply find what works for you thus opening up all sorts of possibilities. Madalyn and Aaron chose Maison et Jardin for their beautiful April 1st Orlando wedding and it was refreshing and surprising to me how beautiful and elegant everything was for a bride who had no theme and no preconceived ideas about how her Central Florida wedding day should be.
A little background…8 years ago Madalyn and Aaron met through a mutual friend. A friendship blossomed and 2 years ago that friendship took a turn and they began dating. According to Madalyn, " Aaron proposed the same way he does many things: spontaneously not according to plan. He had arranged for a romantic New Years Eve proposal at the Botanic Gardens, complete with photographer, followed by a fancy dinner at the Peabody Hotel. About a week ahead of schedule Madalyn had a sudden family member visit, as her cousin is a flight attendant. Scrapping the original plans in favor of having family there, he reached out to Madalyn's cousin to involve her in his newly hatched scheme. That night they all had dinner together, and Madalyn's cousin was ready and recording when Aaron popped the question."
Wedding planning began, and a team of vendors assembled. Event planner Michele Butler on board to supervise , assist and guide the bride and groom from start to finish in all aspects of their Maison Jardin wedding. Photographers hired, S & S Photography, snsweddings.com, check! Florist, Flowers by Leslie who Madalyn says," was so helpful with answering our questions. We weren't sure exactly what we wanted, and she helped craft something perfect for us! She was accommodating, flexible, and friendly. The flowers were even more beautiful than we could imagine!. Hair and makeup , " I used Kristy's Artistry Design Team for both hair and makeup. The trial went amazingly and my stylist was very personable. It was so much fun to feel pampered, and know I was going to look amazing for the big day. Having a professional do my hair and makeup really made me feel confident, even if I was at first hesitant to fit it into the budget. The website is http://kristyalonzo.com/ . Now the biggie, the dress…Madalyn went to several dress shops before finding the right fit at Something New Bridal. "The dresses felt so unique and high quality, compared to many of the "designer" dresses at other shops. The staff helped make her feel welcomed and special. They even picked her dress for her! It was one she would never have thought to try on, but once it was on she didn't want to take it off. They helped her branch out (after showing her what she thought she wanted), and she couldn't have felt more beautiful. The tuxes were rented from Absolutely Fitting. Our out of town guests were able to send in measurements from out of town, and they even delivered the tuxes to our hotel suite to perform the last fitting. Aaron liked his tux so much that he wanted to purchase it! All of the men looked handsome."
I asked Madalyn if she had any advice for future couples having an Orlando wedding and she said," Don't be afraid to ask for advice/help. Planning a wedding is a huge process, and includes so many details! Professionals can help, and we are so glad that we had a wedding planner and photographer. But also ask and involve your wedding party or close family members. It will make your bridesmaids feel more beautiful if they get to weigh in on a dress, and your mother in law will treasure the opportunity to provide advice. "
Well the big day came, April 1st 2017, and I can tell you Stan and I were so excited to be Aaron and Madalyn's Wedding photographers. We had a great location, ( Maison Jardin has a lot of windows so it's a light and airy interior, as well as overhangs outside, so we knew we could do a great job if the weather turned ugly on us, always an issue in central Florida!!) beautiful , relaxed couple, beautiful day, and an awesome team of vendors all working together to ensure a smooth, stress free, beautiful wedding day for Madalyn and Aaron. The day comes and goes in a blink of an eye but the happy couple ," simply loved the magic of it all. Everything turned out to be even more special than we had hoped, and the day passed in happy perfection. Truly, we were expecting a much more stressful day, or one filled with catering to others as we tried to make all of our guests happy. But our wedding planners made sure everything ran smoothly, and everyone involved did so much to contribute to making us feel special. "
Aaron and Madalyn ,"will be traveling for the foreseeable future. Right now, we're in Chiang Mai Thailand! Madalyn teaches English online, which allows us to earn travel money from anywhere. Since our wedding we have been island hopping in Indonesia, and to several cities in Thailand. We think of it as our never ending honeymoon. You can follow us on Instagram @stopdroprefresh "
Congratulations to this wonderful and so in love couple, S & S Photography wishes you many years of health and happiness!!
Our main cake was from Party Flavors Custom Cakes. Our Groom's cake was from Hello Sugar
We went with a personal friend to DJ our wedding. He knows our preferences in music and he was so eager to make us happy on our big day!