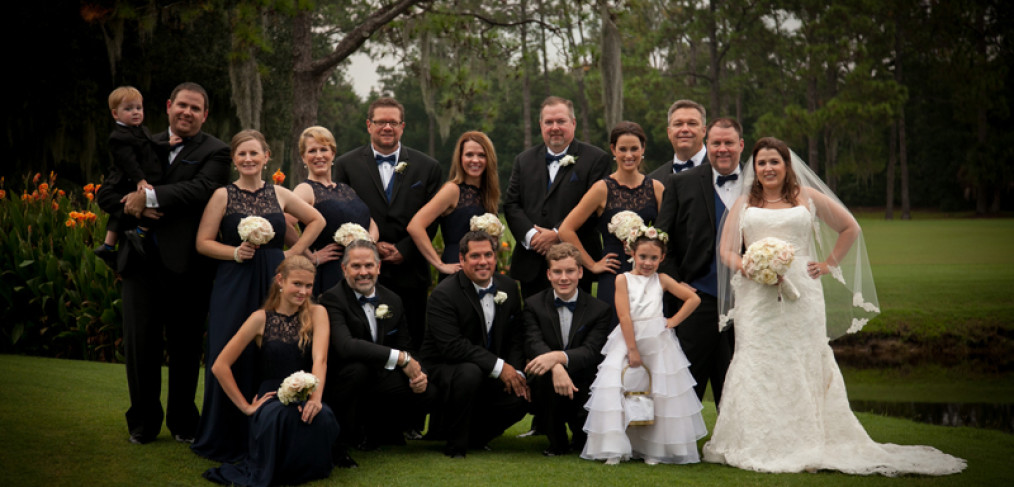 Barbara and Tim's Orlando Wedding Photography, and Rain!
The pressure was on photographing Barbara (Alexander) and Tim Lightfoot's wedding this past September at First Baptist Church of Orlando with a reception at the Orlando Country Club. Barbara, the bride, is the Director of a major global event planning company and knows her stuff — her honeymoon was postponed to handle a meeting with Ex-President Bill Clinton!
So… Of course we wanted everything to run smoothly right?!? But did it? Of course not! The major interfering factor in all Florida weddings reared its ugly head…rain, rain and more rain! I normally talk about my couples in my blogs, but not this time. I'm going to talk about my amazing husband. I cannot praise Stan enough for what he manages to pull off when it seems all the odds are stacked against us. I cannot shoot a wedding without him. He is far more talented than I am. He sees the light that is so key to great pictures. He sees the background, the foreground, the possibilities that I do not.
He pulls off amazing shots in ridiculously cramped impossible spaces. And when I start to panic because I'm focusing on what we can't do, he calms me down and shows me what we can do. He saves the day each and every time we are up against bad weather, delays, ugly locations, darkness, technical problems…you name it, the man can shoot incredible pictures in it! I would never ever shoot a wedding without him! He can shoot without me (I might send him with 10 pages of notes, LOL!) but I cannot, would not, shoot anything without him by my side.
So, Barbara and Tim, your wedding images are a direct result of my husband's talent, and we both wish you a long and happy life together!