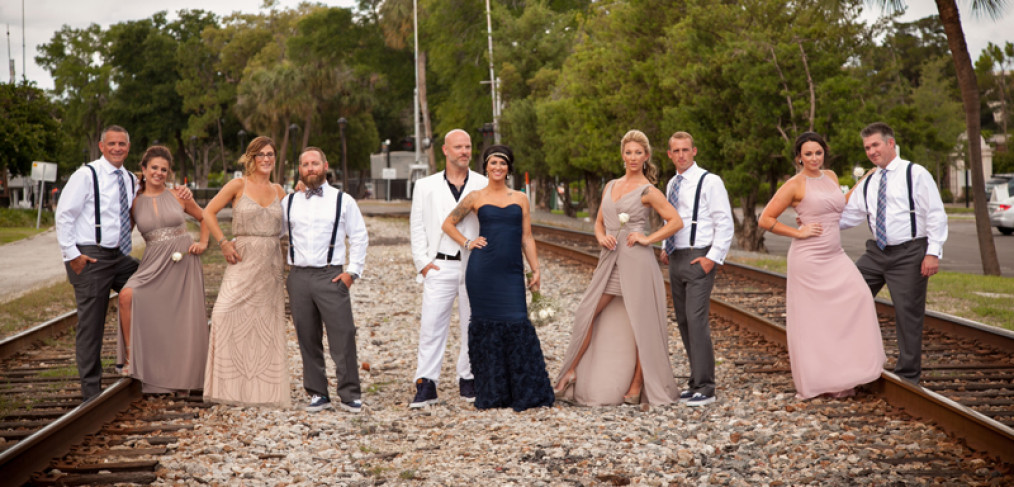 Winter Park Farmer's Market Wedding Photographers
Samantha and Josh definitely are one of the most unconventional couples we've had the pleasure of working for! After experiencing many life changing moments together like the birth of their son Jagger, buying a new home together, and being together for 9 yrs, marriage was not a priority says Sam. But, when Josh did propose, Sam says "It was on!"
They chose the Winter Park Farmers Market for both the ceremony and reception, and then the dress shopping began. Sam and her Maid of Honor Amanda headed to Bloomingdales where Sam saw, and urged by Amanda tried on, a beautiful blue dress. When she saw it she thought, "OMG that dress is beautiful!" But is was blue…so the search continued.
On another day, with Mom in tow, Sam tried on many traditional white, beige and blush dresses, but none was just right. Back at Bloomingdales they headed, where Amanda snuck in, amidst the traditional dresses, the blue one. That blue dress was the last dress Sam tried on and when her and her Mom both began to cry she knew it was THE ONE!
"It was the first I ever tried on and it became the last. I felt like myself in it!" Sam's theme was vintage, rustic chic…very simple and relaxed. Her hair was classic vintage, and she choose a stunning diamond headband to complement and not overpower her hairstyle and dress.
Hairstylists Carrie Brown and Danielle Watkins at www.beautyagogofl.com did a beautiful job!
"What I loved most about S & S Photography is that their personalities were so amazing. Charlene and Stan were able to capture some of the most amazing moments during the wedding that I will always have! I am grateful to them for making our pictures amazing!"